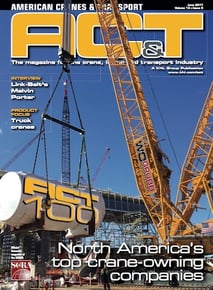 CraneWorks is proud to announce that our company is one of the fastest risers on the AC&T Top 100 list, as published in the June 2017 issue of American Cranes & Transport. According to the 2017 list, CraneWorks is now the #51 crane company in North America, a significant jump from 2016 when we ranked #77.
The AC&T Top 100 ranks the biggest North American crane dealers based on the total lifting capacity of each company's sales fleet. CraneWorks' continued expansion into new markets coupled with our increased sales of larger cranes (like one of the first Demag AC 220-5 all terrain cranes in the United States) were major factors in our surge.
In addition to our all terrain cranes, CraneWorks carries a full line of cranes and equipment, including boom trucks, knuckle booms, truck cranes, and heavy trucks for sale or rent.
Thanks to all of our employees across the US, whose hard work every day made this ranking possible. As we continue to grow over the next year, we can't wait to see how we do in 2018!