CraneWorks also makes ACT's list of Top 10 Mobile Fleets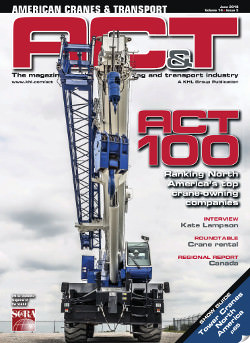 CraneWorks, Inc. today announced its ranking of #38 on American Cranes & Transport's (ACT) 13th Annual ACT100 Index of crane-owning companies in North America. The 2018 ranking represents a gain of 34% from 2017 and nearly 100% from 2016.
In addition, for the first time, CraneWorks made ACT's complementary list of the Top 10 largest mobile crane fleets, coming in at #9.
The ACT100 Index is calculated by adding together the maximum lifting capacities of all crawler cranes and mobile cranes in a company's fleet. ACT also lists the number of branches, number of employees, scope of operation, type of crane (mobile and crawler), and largest crane for each company in the ACT100. Surveys were sent to nearly 500 companies in the United States, Canada, and Mexico.
"Our growth is fueled by our increased geographic footprint and demand for larger capacity cranes, including the rapidly-growing 50+ ton market segment. We are deploying substantial capital to fuel our growth throughout 2018 and 2019, adding rough terrain cranes, crawlers, and Crossover boom trucks from Terex, boom trucks from Manitex, and all terrain cranes from Demag," says Keith Ayers, CEO. "CraneWorks is built on providing the best of the best for our customers, and we are diligently continuing our current growth to further our reach and customer satisfaction."