Already a huge success in other parts of the world, the new Demag AC 45 City all terrain crane is now available in North America. As the top Demag distributor on the continent, CraneWorks is pleased to announce that we recently took delivery of the first AC 45 City crane to hit our shores.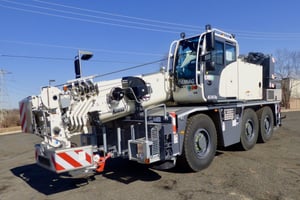 With an overall length of just 28.6 feet, a width of 8.4 feet, and a height of 10.4 feet, the Demag AC 45 City has the most compact dimensions in its class, and is ideally suited for working indoors or in tight urban environments.
Even though the AC 45 City is compact, it can still handle challenging lifts with a maximum capacity of 50 US tons. It also has a main boom length of 102.4 feet and a maximum system length of 145 feet to give it plenty of lifting height and reach whether operating outside or inside.
According to CEO Keith Ayers, CraneWorks is committed to providing customers with the most innovative and productive lifting solutions, and the Demag AC 45 City is the best in its class. "We have a lot of customers who work in urban areas," he explained. "It can be a real challenge if they don't have an appropriately sized crane that can still handle challenging lifts. This new unit is everything they want in a crane. It has a compact chassis that can fit where other machines can't, it has an incredible reach, and it can lift heavy loads with ease. I think our customers are really going to like this crane."
Like many of the other Demag all terrain cranes in CraneWorks' inventory, the Demag AC 45 City is equipped with an IC-1 Plus control system that determines the crane's lifting capacity for every boom position in real time. This feature helps reduce the amount of counterweight needed for lifting heavy loads.
For more information on the new Demag AC 45 City or to inquire about availability, contact your local CraneWorks branch today.