CraneWorks jumps to #27 in company rankings; also rises in Top 10 mobile fleets list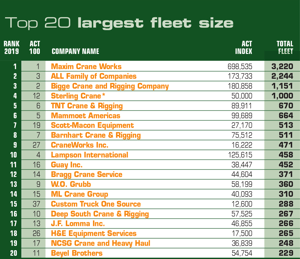 CraneWorks has been on a tear for the past four years, steadily increasing its rankings on the annual American Cranes & Transport ACT100 Index of crane-owning companies in North America. 2019 was no different, with CraneWorks jumping another eleven spots to #27.
CraneWorks ACT100 Rankings

Year
Ranking
2019
27
2018
38
2017
51
2016
77
AC&T magazine calculates each company's ACT100 Index by adding the total lift capacities of all crawlers and mobile cranes in the company's fleet. (For example, if a company has two 30-ton cranes, their ACT100 Index is 60. CraneWorks came in just a bit higher at 16,222.)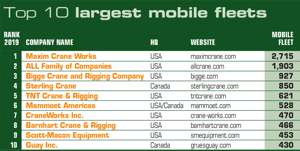 In addition to the improved ACT100 ranking, AC&T revealed that CraneWorks now has the ninth-largest crane fleet in North America with 471 units. For the second year, the company was also listed in AC&T's list of the Top 10 largest mobile crane fleets in North America. This year CraneWorks had 470 mobile cranes, helping the company rise two spots to #7.
Thanks to all of our employees—at all levels of the company and across North America—for their hard work which continues to make this incredible growth possible!