Annual ACT100 rankings reveal a one-spot jump in overall fleet size rankings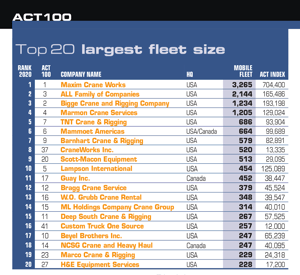 CraneWorks posted another great showing in this year's annual American Cranes & Transport ACT100 Index of North American crane-owning companies. This year we rose one spot to #8 in AC&T's list of the largest crane fleets in North America. When AC&T looked specifically at mobile cranes, CraneWorks again placed #8 in the rankings. Finally, in the magazine's 2020 ACT100 Index, which ranks companies by their fleet's total lift capacity, we came in at #37.
The raw numbers look even better. Here's how our crane fleet has grown over the past year:
Total number of cranes: Up 10%
Number of mobile cranes: Up 9%
Number of crawler cranes: Up 800%
One thing hasn't changed: CraneWorks is still your #1 dealer for boom trucks, knuckle booms, wallboard cranes, all terrain cranes, mechanics trucks, aerial lifts, truck cranes, and more. Search our entire fleet now to find the perfect machine for your job.